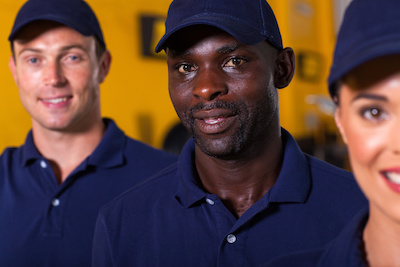 The flexibility, affordability, and effectiveness of Master Samurai Tech's online training is a powerful combination. Not surprisingly, dozens of large appliance service companies and franchises have turned to Master Samurai Tech Academy to train new technicians, bring older techs up-to-speed on modern technology and troubleshooting, even improve the performance of their office staff at supporting customers and technicians.
Don't fall behind your competitors, enroll your staff today for an unbeatable advantage.
How to Enroll Your Employees
Here are step-by-step instructions for enrolling an employee in their first course or bundle.
If the student already has an account (from taking a course or course sample), log into that account, then click Enroll in the menu to g

o to the

Enroll page

. If the student does not already have an account, make sure you are logged out of any other accounts, then click Enroll.
Choose the course or bundle from the drop down menu under "Registration Options."

If you have

your company discount code

(see below for more details), enter it and hit apply.
Enter the profile information for the student (click here for more details). (If the student already has an account and you are logged in, these fields will auto-fill.)
Enter your credit or debit card information.
Click "Submit Form." The student will have immediate access to the course(s) once the payment is complete.

(The receipt will be emailed to the student's email address, so have them forward it to you if you need it.)
1. For online training to be effective, students need to work at their own pace and be encouraged to repeat lessons and videos as needed. And, since the goal is appliance repair mastery, they need to take each quiz and exam to test their grasp on the material. Thus, it's essential that each employee be given their own account and course enrollments.
2. Once you create a profile, the username cannot be changed. All of the other items can be changed, if needed.
3. Each email address must be unique, in other words, one account is allowed per student. If the employee's email address has already been registered at the site (for example, to take a sample course), you can either enroll with their existing registration (log in with their old username and password before enrolling) or contact us to delete their old account.
To enroll a technician in additional courses in the future, simply log into their account, then enroll as described above. The student profile will automatically be populated in the form.
That's it! Your employee is now ready to start their journey toward mastering their job, be it appliance service or customer support! For details on how to ensure they get the most out of their training, check out our page on supervising your employees as they train. And if you're not sure whether one of your more experienced techs needs training, have them take our You Don't Know What You Don't Know quiz. It'll weed out the parts-changers from the appliance repair masters.
Enrolling Multiple Employees (i.e. Company Discounts!)
After you've enrolled one employee at the regular tuition (following the steps outlined above), contact us for a discount code that you can use to receive 10% off subsequent enrollments.
After you've enrolled a total of 4 employees, contact us again and we'll bump your discount up to 15%! If you are going to enroll 5 or more employees at the same time, please contact us using the form below so we can make the process easy for you. We'll give you a discount, send you an invoice, and get them all set up.
Also, if you would like a line of credit for enrolling your employees, we are set up as a merchant with Behalf.com.